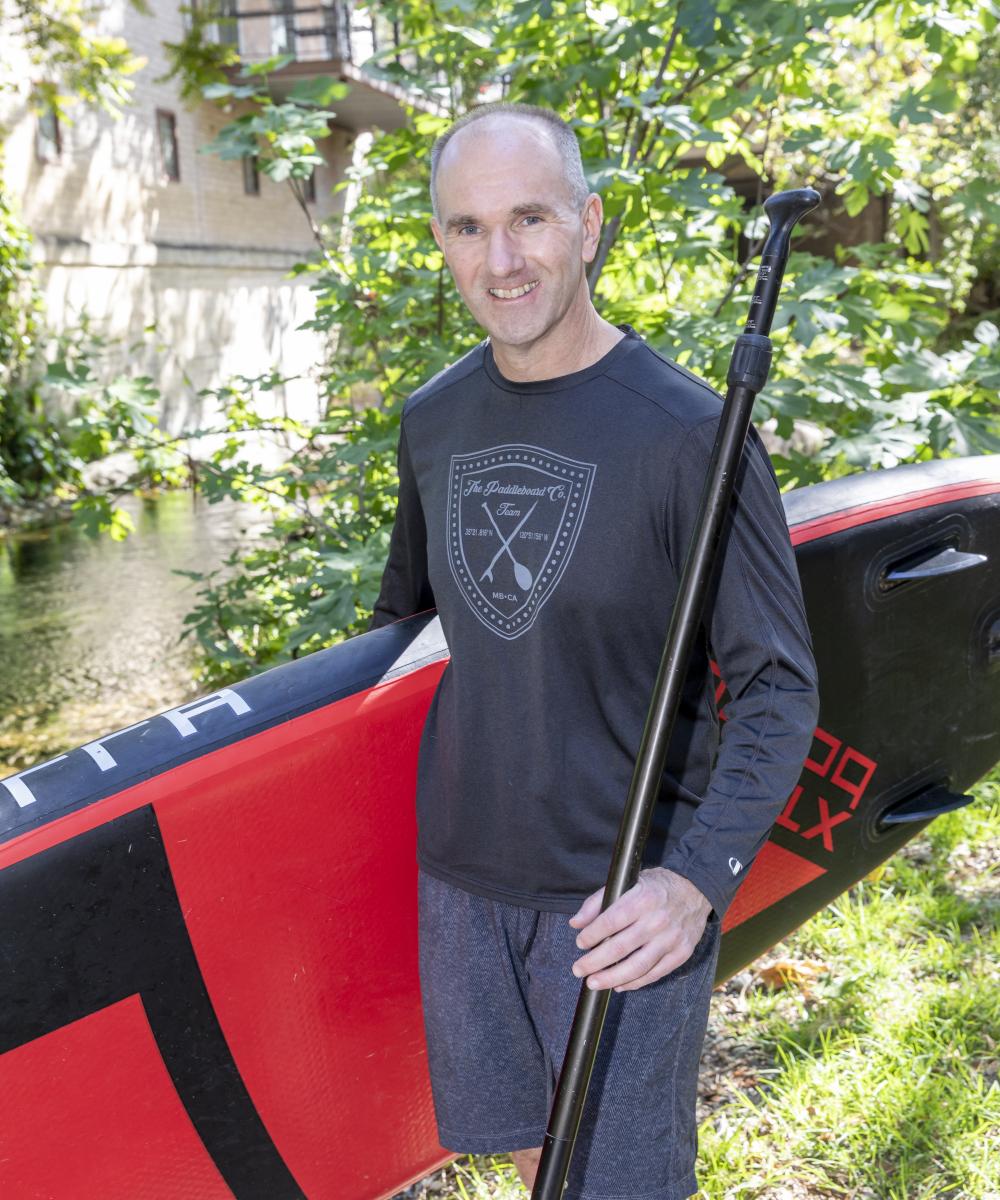 Andrew
Stand-Up Paddle Board Enthusiast
(805) 592-1221
Andrew has always loved and been active in sports.  He competed in baseball, basketball and soccer as a youth, played in various adult softball and basketball leagues, and participated in mud mashes and a triathlon.  Andrew has even tried his hand at Brazilian Jiu Jitsu.
Around 2012, Andrew experienced back and neck injuries and began looking for a low impact form of exercise and recreation that would strengthen the core muscles to better support his back.  He rented a paddleboard at Avila Beach one morning and was immediately hooked.
He enjoys Stand Up Paddle Boarding, because it's a low impact exercise in which nearly every muscle in the body is used.  Your legs stabilize your center of gravity; the arms, back and shoulders get a workout from paddling; the back and abdominal muscles are constantly engaged to maintain your balance.
It is also a bonus to live on the beautiful Central Coast of California where seals, sea otters, dolphins and occasionally even humpback and gray whales can be spotted.  The quiet and peace on a Paddle Board create a sanctuary, away from screens and devices, for retrospection and internalization. The ocean provides a stunning and almost reverent environment where Andrew and his daughters create meaningful memories.
The unpredictable nature of the ocean and the unique challenges derived from it also contribute to the lure.  There are times when a calm and serene day in which you feel like you are gliding through the water without resistance can quickly deteriorate.  With gusting winds and choppy water, it becomes a struggle to even continue standing on the board. In turbulent waters, beginners often panic. Just like in investing, panic is never a feasible option.
We experience similar unpredictability in the economy, the equity markets, and our lives.  In paddle boarding as in investing, frequent course corrections are required to keep you moving in the desired direction toward the goal.  With an experienced and steady hand guiding you, this journal can be both beneficial for you in the long run and enjoyable.